Live Media CP Stream
Listen to the Media CP media player streaming live 24/7. One short line of code is all it takes to embed this HTML5 Shoutcast/Icecast player onto your website.
---
Media CP Auto DJ + SHOUTcast / Icecast Server
Media CP formerly known as Cast Control is the premium option for a fully automated playlist system with seamless switching from auto to live broadcast with a single click!
The main dashboard in Media CP gives a great overview of important statistics, current and past track and listener activity, a small HTML5 player so you can listen in and several other features that make you feel like a pilot in the cockpit!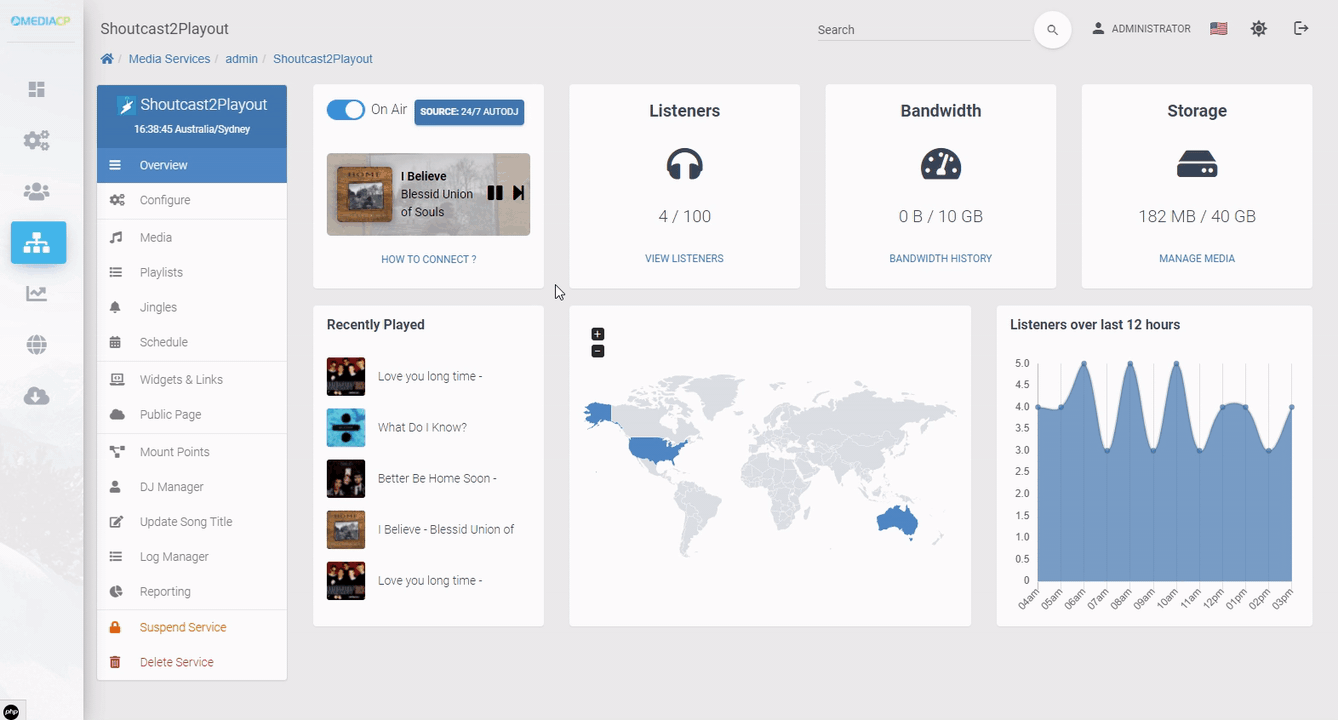 ---
Media CP File and Upload Manager
The Media CP File Manager (pictured below) is how you'll upload mp3s to your auto dj. Drag and Drop files from your computer or laptop right into the media manager to upload. FTP options are also available for larger files.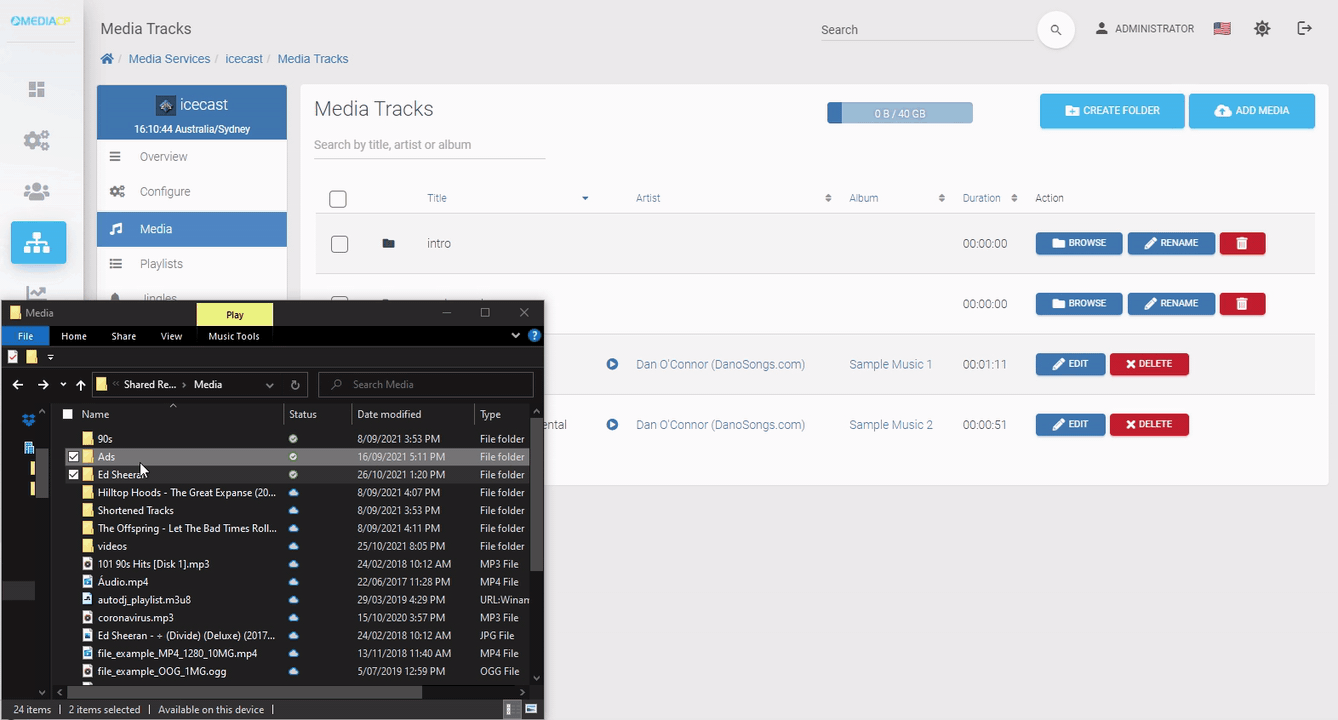 ---
Playlist & Scheduling Manager
Create and schedule unlimited playlists, station IDs, drops, or advertisements to play at anytime of any day, or every X amount of tracks either in order or selected randomly.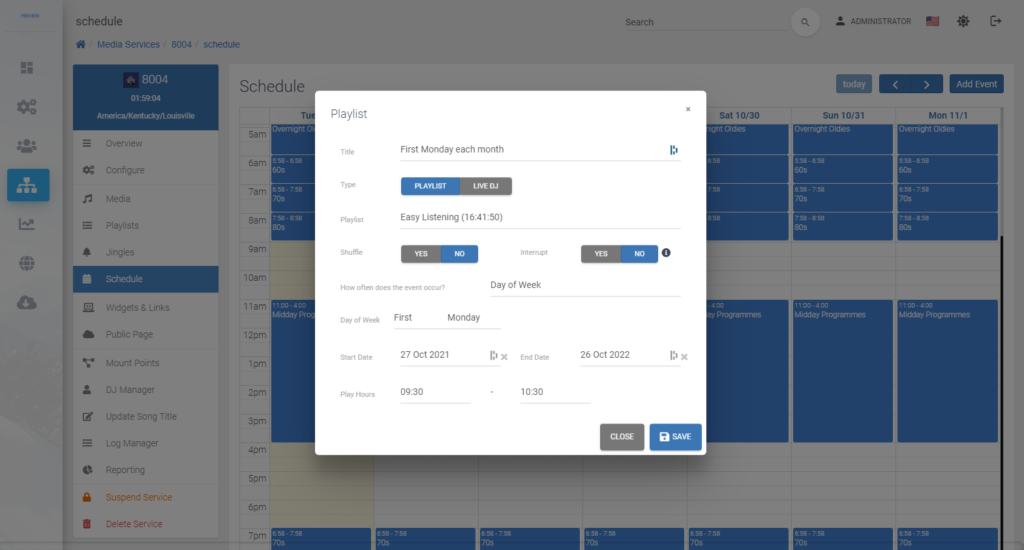 ---
Copy Paste Widgets
Media CP is packed with copy / paste widgets including HTML5 Player, Google Maps for Listeners, Upcoming Events and Shows, Recently Played, Now Playing, Now Playing Cover Art, Current Listeners, Current Bitrate and Top 10 Countries.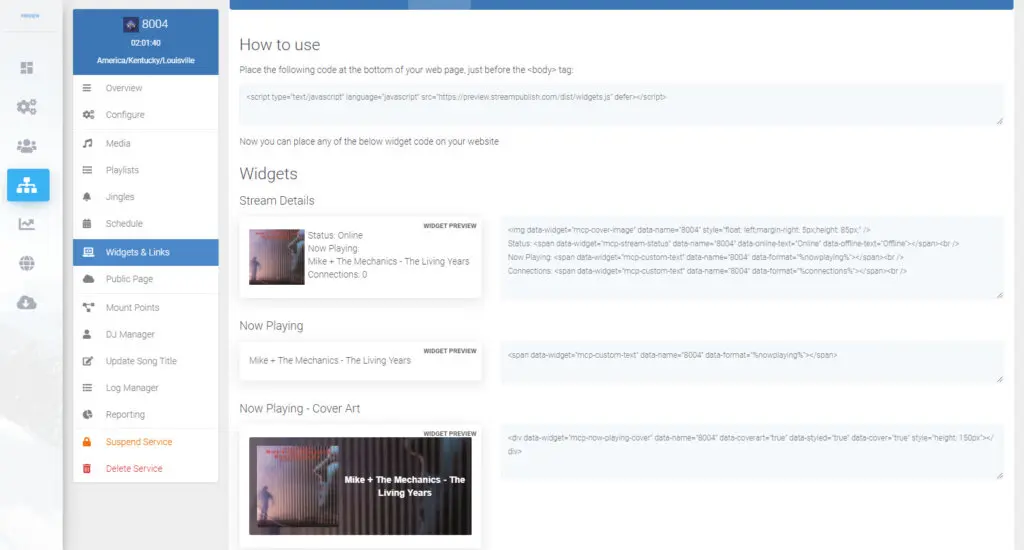 ---
No Repeats
Media CP gives you complete control over blocking repeat songs, artists or albums for each playlist you create.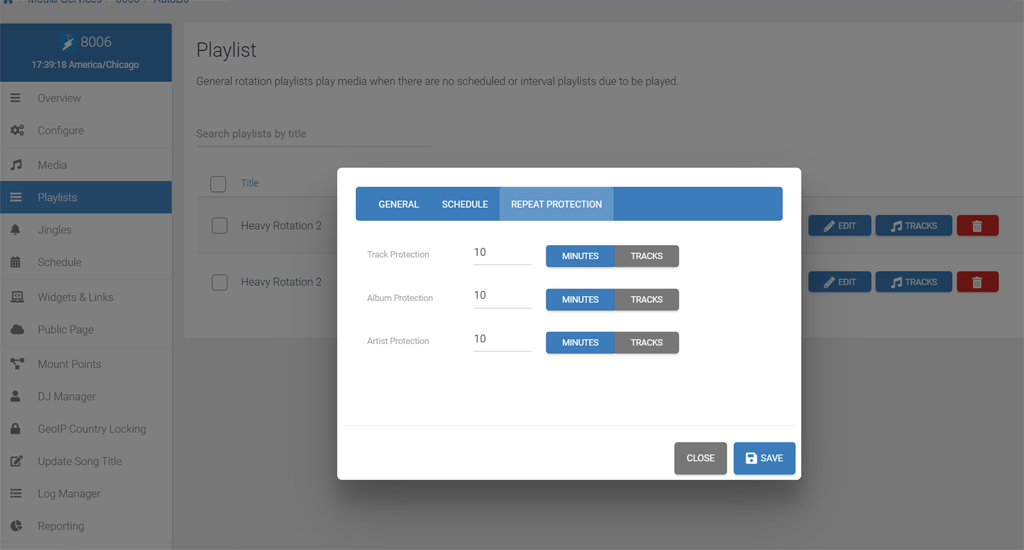 ---
Geo Blocking
Media CP allows you to either block or allow any country in the world. Geo Blocking is included with all Media CP packages free!

---
Public Page
Customize your streams public page to match your stations theme. Use one of the preinstalled backgrounds or upload your own.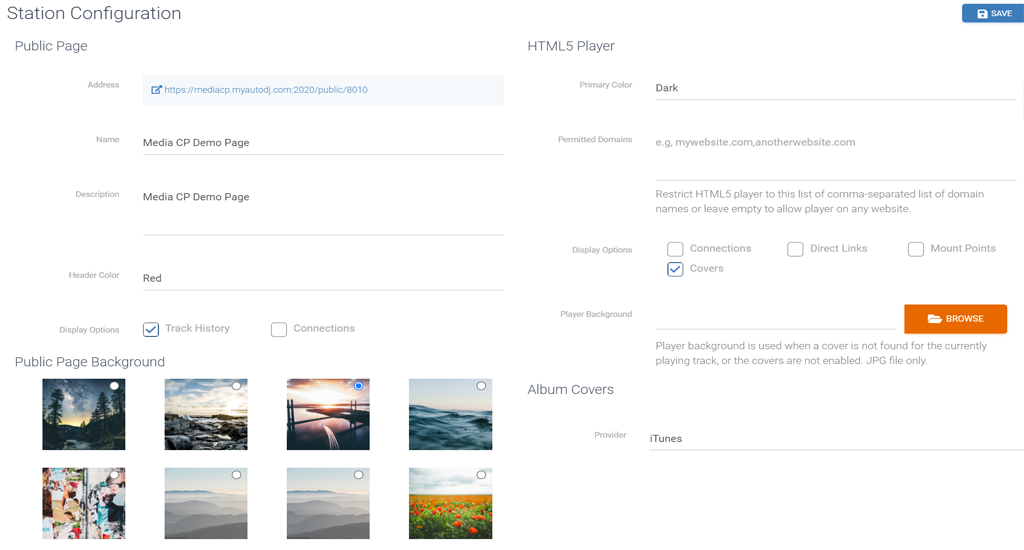 ---
Detailed Reports
Download Raw Historics Information, Connections Report, Traffic Report, Media Report, Playback Report, Performance Report, Countries Report, User Agents Report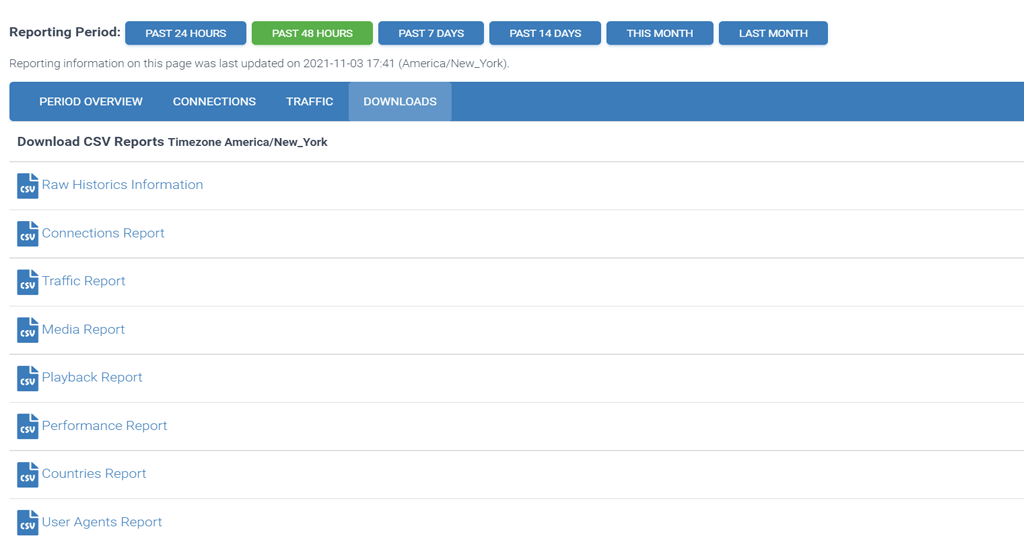 ---
Listener Statistics
View Unique Connections, Peak Connections, Avg. Connections per hour, Total Minutes, Top Connections by Minutes, Top User Agents and more Total Hours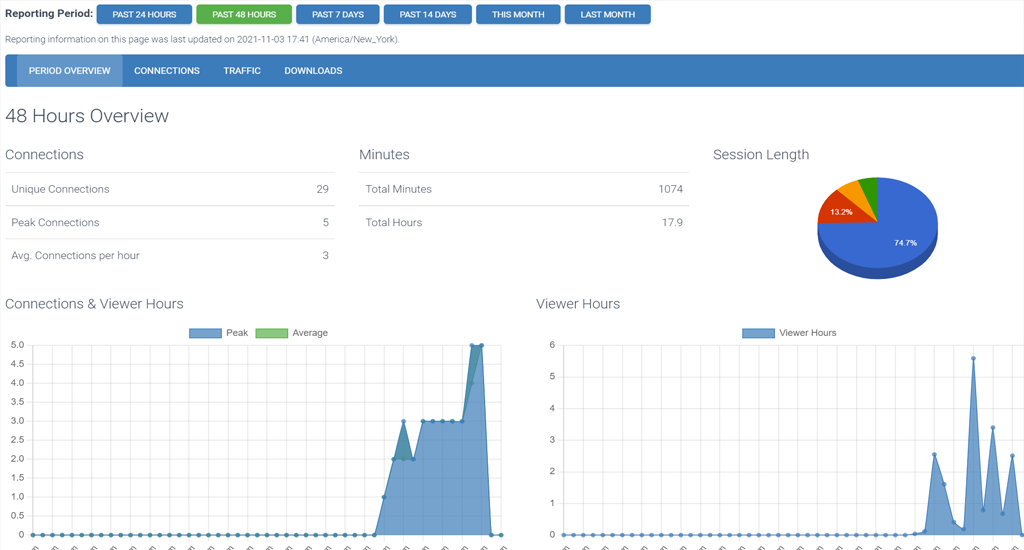 ---
Live Broadcasting
Media CP includes a remote dj manager which lets you create an unlimited amount of DJs with their own unique username and password to enter into their broadcasting software. Once the dj has connected, the stream will automatically fade from auto dj to live dj seamlessly, with no need for the listener to reconnect their player or browser. When the dj is finished, the stream switches back from live to auto dj and waits for the next dj to connect.
Media CP also allows you to assign priority levels to each dj which will allow them to over take a lower priority djs stream.
---

Hired Hosting offers Media CP packages in either SHOUTcast or Icecast
SHOUTcast v2.6
SHOUTcast v2.5 was the official last open source and free version of SHOUTcast. 2.6 does allow for free mp3 streaming up to a bitrate of 128Kbs which is standard mp3 quality. If you want to stream in AAC+, or at higher bitrates you'll need to upgrade to SHOUTcast Premium This is a outside service from Hired Hosting which is linked to Media CP through the DNAS.
SHOUTcast Premium is an optional add on to your package with us and not required!
The benfits to using SHOUTcast over Icecast include the ability to list in the popular Directory. 2.6 which will list the currently playing track in your directory listing which has been proven to gain listeners quickly.
In addition, SHOUTcasts new partnership with TargetSpot which will automatically run audio ads in your stream at times you choose. Only streams using the new DNAS can take advantage of this new opportunity which sends you cash directly to your Paypal account.
Icecast KH
Icecast KH is a full open source alternative to SHOUTcast. Stream in MP3 or AAC+ formats at any bitrate you like with no extra fees. SSL Certificates are also included and do not use resource killer proxys like the SHOUTcast 2.6 free version does.